Welcome to Health Science
at CSU Channel Islands!
The mission of the Health Science Program at CSUCI is to prepare future health professionals who are competent, compassionate, creative and critical thinkers, and whose work addresses health disparities in the community. Our vision is a just and equitable world of physically, mentally, and socially healthy people living in healthy communities.
Our interdisciplinary degree program is designed to prepare students for professional careers in private and public health services. The program combines the knowledge and skills from multiple disciplines to provide rigorous training in health science. The curriculum includes a set of core courses and several elective courses that each student chooses in consultation with an advisor.
Visit our Testimonials page for videos and written testimonials from current students and alumni.
---
Health Science Welcomes You Back to Campus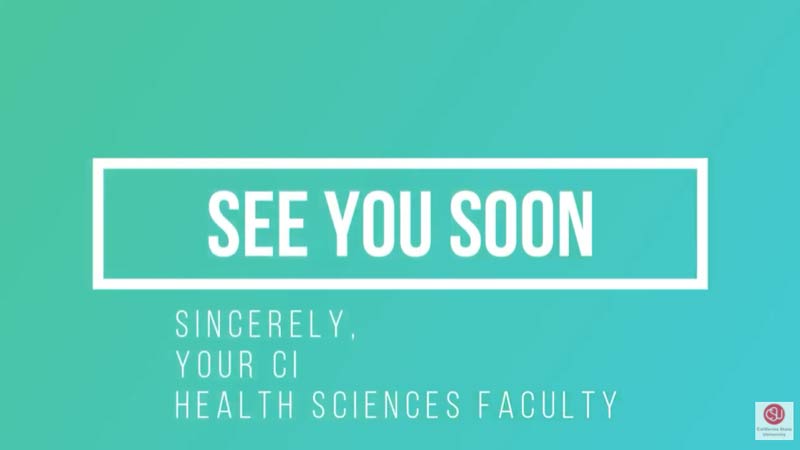 ---
COVID-19 Vaccine Statement
A network of California university leaders in public health has released a statement urging members of their university communities to receive COVID-19 vaccinations when they are available to them. The statement is supported by more than 50 deans, department chairs and program directors from the University of California, the California State University systems and private colleges and universities.
Dr. Sonsoles de Lacalle, Chair of the Cal State Channel Islands Program in Health Science was part of the effort to write the statement.
Faculty and staff in the Health Science Program support the statement and encourage our students, our community and our stakeholders to reach out with questions or concerns. Read the statement (PDF, 64.5KB).
Additional information can be found here: https://www.csuci.edu/news/campus-updates/covid19-faqs.htm
---
Do you want to plan your studies at CSUCI?
Use these tools:
The 4-year academic roadmap gives you the program-approved distribution of courses to take each semester. Explore it here: https://www.csuci.edu/academics/artsandsciences/academic-roadmaps/bs-health-science.htm.



The major advising form: Use this advising worksheet designed specifically for the Health Science major to monitor your progress towards graduation in addition to using your CARR on myCI.
Advising Form(PDF, 334KB)

Make an appointment with a Faculty Advisor.
Based on your last name below, please contact your assigned Faculty Advisor to schedule an appointment by clicking on their name. If you have general questions about transfer credits, graduation credits, or GE courses, please make an appointment with the Academic Advising.