CSU Channel Islands is the #2 ranked Best Value Health Sciences degree school in California and the #25 ranked Health Sciences degree school in the United States! Visit the Healthcare Degree Search website below for the rankings:
---
Foodshare Volunteer Success!
On October 14, 2020, CSUCI Health Science students assisted Foodshare in feeding 1,300 families! Our program will be volunteering to help more families this year and will be teaming up with Foodshare for Service Learning in Spring 2021. For more information and to volunteer your services, please contact Melissa.Gutierrez@csuci.edu. 
---
Congratulations to Dr. Linton and Dr. Dixon for their amazing work on OpenCI!
Visit Faculty Showcase for more details
---
Featured Mentor: Health Science alum, Andrew Barbara ('18)
Andrew Barbara is a Featured Mentor on Dolphin Connect, CI's new online mentoring and networking community.
Read Andrew's spotlight (PDF, 207 KB) or view Andrew's spotlight on Dolphin ConnectFaculty Showcase.
---
Health Science students takeover Instagram!
Health Science students are doing an Instagram Takeover of our account on 11/14/19! They will be doing a health education intervention at a health fair at Channel Islands High School and will be posting live "stories" to our Instagram.
To view the takeover, visit our Instagram @csucihealthscience!
---
Congratulations to Dr. Linton and
Health Science students!

(PDF, 538 KB)
---
CSUCI Nursing and Health Science students' visit to Santa Rosa Island
In late September, 14 Health Science and Nursing students traveled to the Santa Rosa Island Research Station accompanied by Dr. Lynette Landry and Dr. Charlene Niemi. The purpose of the trip was to develop an appreciation of the environmental changes caused on the island due to ranching operations and other human activity. Students also learned about how some of the plants on the island were used by the Chumash for medicinal and nutritional needs. Students participated in hikes on the island focused on identifying plants and connecting with the natural beauty of the island.
---
2019 Camp Ronald McDonald for Good Times
The CSUCI Health Science Team successfully raised $4,210 for Camp Ronald McDonald for Good Times, a medically supervised camp for children with cancer. Please join us in congratulating and thanking Hannah Haid and Rebecca Allen, the team captains, in their efforts to organize this fundraising campaign.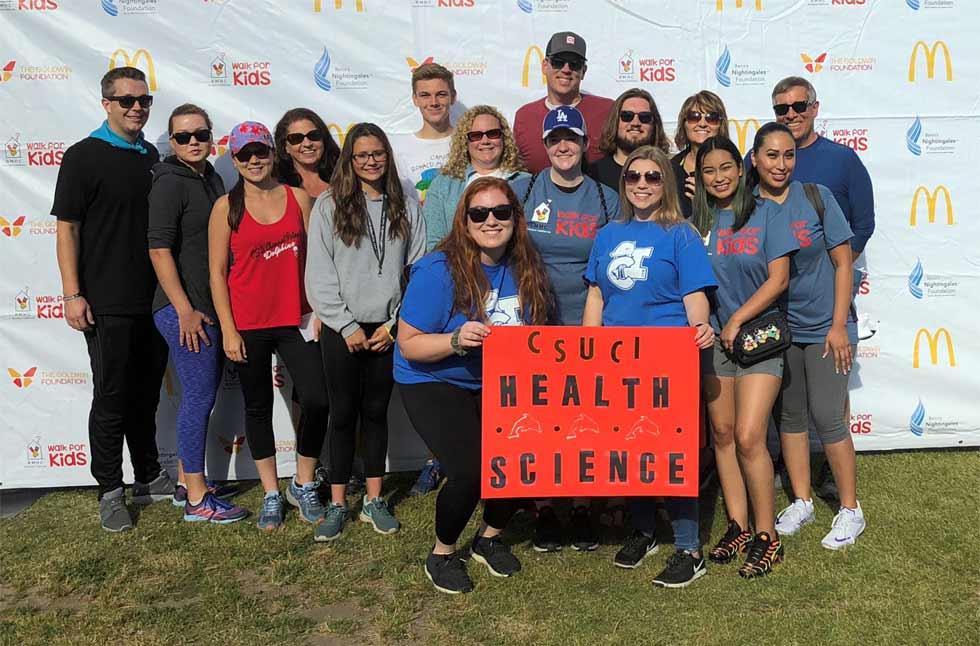 ---
2018 CSU Health Policy Conference
Every year, nearly 200 CSU students majoring in public health or related health sciences head to the state capitol for the CSU Health Policy Conference and get a unique opportunity to see firsthand how the policy is shaped. This year, about 175 students and 20 faculty members from 16 CSU campuses attended the conference held in Sacramento from April 10th to April 12th.
Students had an opportunity to meet and hear from officials involved in creating and implementing health policy including Assemblymember Wendy Carrillo, state Senator Ed Hernandez and Secretary of Health and Human Services Diana Dooley. They also attended a Senate Health Committee hearing and heard from a panel of officials from the California Department of Public Health.
CSU Channel Islands was lucky enough to send 5 Health Science students to the Health Policy Conference this year. Here's what a couple of our students had to say:
"The panels of experts in various fields of health policy were the most interesting aspect of the trip in how they illuminated the different types of jobs available in that sector and how each person found themselves in those positions."
"As a generation, we have been presented with many pressing issues and it is our job as future healthcare professionals, whether we end up in the private or public sector, to take matters into our own hands and work through those issues together."